Famous American YouTuber Mr beast recently hit a 100 million+ subscribers milestone. he posted a tweet on Twitter that says a special secret video has been made only for his merch supporters. people who buy any tees or hoodies from the shop Mr beast website, which costs around 30$ to 60$ only get the links to watch that content.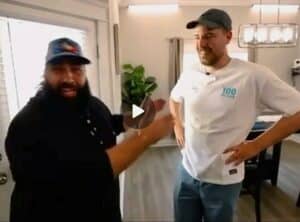 before hitting one million he started streaming live on his youtube channel for 20-27 minutes. more than 11 lakh+ viewers joined the live stream and supported him to his the milestone quicker. everyone says that he is a perfect young YouTuber who makes amazing unique content that others.
Mr beast mentioned that he will not publish this content on any of the public social media platforms, especially on youtube, many people outside the united states still have some trouble in buying the product from the official links. some users also hesitate to provide the payment and extra shipping charges for delivery outside US of more than 20$. hardcore fans are worried without knowing what will be included in that secret content.
also check – Did Chris Get Fired From Mrbeast?
What is Mr beast's secret 100 million video all about?
jimmy invited some of his best friends to his newly purchased home and played a game challenge without them knowing. he pranked all of them by assuming they are invited to check out the web camera audio and video quality fixed in every room. there will be a red color marked at the front door.
but there was a twist, after that camera test whoever leaves that home last, will own that villa! it's really an amazing video! sounds crazy right? here is how can you watch the whole thing,
How can you Watch Mr Beast's 100 Million Secret Merch Video?
The official method to watch his video is to order any limited products from the ShopMrbeast page as you like. there are 2 limited items with 30$ and 35$ half tee and long sleeve hoodies available right now, those who had completed the order will get a special invitation to email. from there you will be able to watch the exclusive content!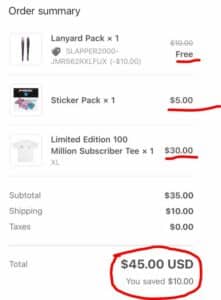 But recently many users who bought the items from the site saved that private video and shared it on Twitter, Youtube, FB, and other social media websites that have gone viral! now anyone can access that for free without buying the limited merch tees and products. many YouTubers shared many tutorials related to it by providing the video links in the comments and description.
sharing these on Reddit, and telegram by users around the world will affect the sales too! so avoiding these methods and following the regular methods and steps. many influencers say that by making it private and limited many people will go and support him only to watch it!