What human feeling are you is the new training quiz followed by most the TikTok users? people who tried this 11 questions quiz say it shows perfect final output by analyzing your options selections and reading your mind easily!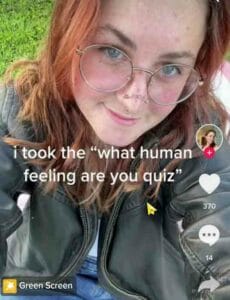 many of us are unaware of this quiz website, there are plenty of other mind-checking tests also available there! here you have to select the genuine answers according to the questions that are displayed on the screen and it will show you the best output.
we all are curious about knowing about all of these types of personality-related things after watching many videos now on tiktok. everyone who tried this is getting different opinions based on their mind and the Ai algorithms they use. while using this we got the name "Humility" that's nice right?
Actually, it's not an English language site (Russian) so you have to use the google translate option which is already present in the google chrome web browser, is the perfect option. so here is how you can do this test and upload it to tiktok or Instagram reels.
read – Trend Uva Bombom Bad Bunny Tiktok Compilation What it Means?
How to do What Human Feeling Are You Quiz Tiktok?
To check what human feelings you have,
Open this Uqiz website
Provide your name and tap on Start Quiz
Now you have to answer all questions honestly to read your mind and feelings well
after completing them you will get the results!
here they ask about some life events you have faced, what you like to do, and your favorite drinks by providing some photos, flowers definitions you like, feeling you hide from people around you, and what animal you like to reborn providing options like a lion, fish, owl, etc
here is what we get after giving all the details,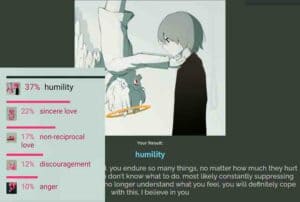 After getting the results, to make a video trend, you should have taken a screenshot of that first. open the video recorder camera and add a green-screen effect. so you can add your photo at first and drag it to 6 seconds duration. then select the music, here is the right music link called speed up sounds used in most of the videos. at last, add the image quiz screenshot after the song beat sound.
After finishing all of the edits you can publish it and save it to your gallery. if you have any video editing application that can also be used to record the video! that's how everyone doing this thing! creating this video and uploading it right now on social media sites will get many viewers because it's the viral topic and !