Recently a video creator's video went viral talking about Angel cut with layers hair cut, now it's a trend on tiktok people, and creators are now talking about this everywhere too. many people still don't get it and what it is all about and why everyone is following this challenge on social media.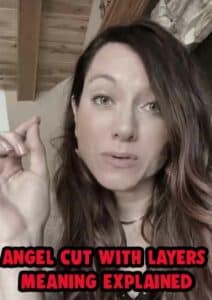 A popular Tiktoker 21-year-old hair fashion stylist named Leda Angel Fazal who has more than 2 million+ followers on tiktok recently posted a skit video about it. she creates skit-type videos and posts them on social media handles to provide awareness to the viewers.
many videos are now posted by many users by assuming their thoughts about this issue right now by agreeing to this and some people this it's all about a normal haircut.
also check – What is AS Adult Swim Tiktok Trend Means? Explained
What is Angel Cut with Layers Meaning on Tiktok?
when the girl asks can I get an angel cut with layers. it means there she is not actually for doing the haircut. According to the tiktok creator Leda, the word "Angel Cut with Layers" can be used to share they are experiencing something related to domestic abuse or they are victims of unwanted relationships. so it can be used as a code to share hair saloons to seek help from hair stylists.
she made a clear short video as a skit that shows a life incident that happened recently in the saloon. so this can be used as a code to give a signal to your hairdresser that you are a victim of domestic violence or in an abusive relationship in their life recently.
by visiting their profile on tiktok you can simply watch all of the short videos related to this as short parts. Leda Fazal also mentioned many followers requested via direct messages to write and publish a book based on the experiences that happened in their life. they also share a tweet related to it on their official Twitter handle too by assuming when a girl comes to the salon and says wants to do an Angle cut they will call the police with their consent.