After Releasing the new update on slap battles players now want to unlock the latest chain gloves on the slap battle Roblox game. it is a little hard to get this glove while comparing it with any others available in the game, but if you have enough luck and patience will be able to achieve it!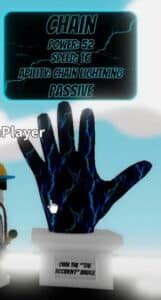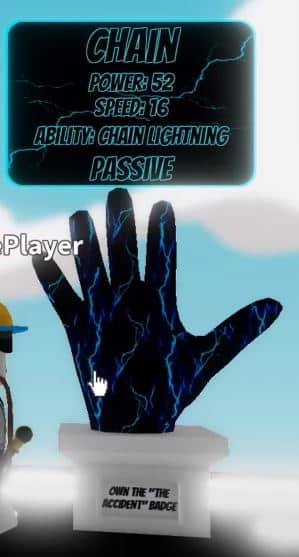 Slap battles is a famous Roblox game that is based on slapping different players who are on the same server using different abilities and power gloves. here you need to defeat others by beating and throwing them away from the farmland or specified area. anyone who falls down from the rights will get defeated.
What is the power of Chain Gloves?
This one is a rare thing that has power up to 52 and 16 range speed. it has pretty decent power and lightning ability while using it on someone it shows lightning effects on the scene that looks amazing. if they are standing in a group it will affect other players too! so in one tap, that beat will affect many players as a tesla power! we all know that to get any glove first of all we need to collect a badge, in this case, we have to get the accident badge in order to use it.
players who have already unlocked different powers have more winning chances. they can be easily achieved by doing special tasks and collecting certain badges. around 432 million have been visited this experience and still going up.
Those who like the competitive fighting genre will definitely get addicted to this experience. here the points are calculated by beating other players. those points are essential for any item on the server. so doing all of the tasks is the only way to earn all of these rewards.
also, check out – How To Get Spy Glove and Predator Badge in Slap Battles
How to get Chain Glove and Accident Badge in Slap battles?
In order to get the chain glove, you need to get the Accident Badge first for this follow these steps,
First of all, make sure you have at least 1000 lap points. then you need to enter the slap royale beta location, which will be shown on the left side. it will teleport you to another map. here need to wait for some time because it will only start after joining up to 20 players.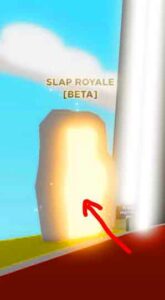 before starting the match select one of the best gloves from the inventory. then you have to go to the red hut area location after jumping from the fortnite type bus. many players will also reach the same location as well. then you have to defend the bunker.
After that exit from there and go to the next hut located on the right side of the map there you will notice a board with some puzzle questions. then it should be solved one by one. after solving these questions using a calculator will get 4 answers 3326. for some users, it may change randomly.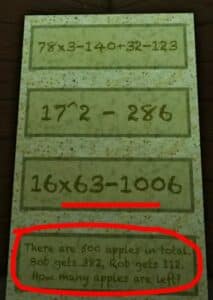 keep this code in mind and go to the red hut again and jump to the secret area by going to the right side corner. then on the locker enter your code 3326 or any other one you got and tap on the green switch to open the room. it will automatically unlock the accident badge and a chain glove will be provided!