Many Creators on tiktok are sharing funny videos of the latest genshin impact dancing anime girl filter effect available on tiktok! it is also known as Ar Klee which is an AR technology-based item developed by the team itself! around 2 million+ users have made videos with it and still is going viral!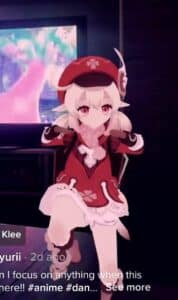 Some people are still not able to find the real dancing girl anime filter and still looking for it. now it's trending all over the world, if you also try to create a video related to this there is more chance to blow up the content quicker and grab attention from the audience around the world.
This anime character is from a popular game called Genshin impact which has a huge fan base and following! it has been released in 2020 but in fewer years it became one of the best role-playing games available on PC mobiles, consoles, etc! people love to make videos with these characters, some try to imitate the dance steps shown on the mobile screen while recording, making memes with it by adding a funny version of the song called Astronomia by tony lgy.
The music used in this trend is also quite interesting, once you hear it it will get stuck in your mind! you can place the anime girl character and resize the size as you like to any area of the place is a good benefit with this effect. many users might think it's a character from Minecraft or any other series.
How to get Genshin Impact Dancing Anime Girl Filter on Tiktok?
To do the Dancing Anime Girl Effect, first of all, open the tiktok app and tap on the search icon shown at the top side of the app interface. then enter "Ar Klee Effect" and hit search. now this will be shown in the top results. here is the screenshot provided below!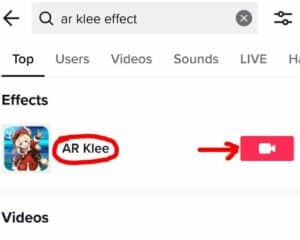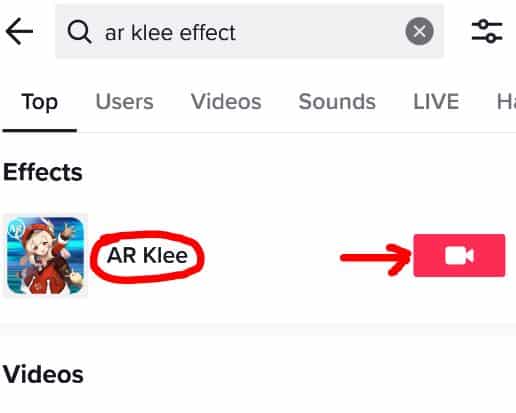 To use it on your phone camera simply select the Video recorder icon shown on the right side of the filter name. it will open the camera app directly with this ar effect applied. now you can move them and place any area and start filming the video.
also, make sure to add this viral music that everyone is adding right now before tapping the record button! if you are lazy to find the filter use this direct Dancing girl anime from here! then it will automatically open the tik tok app and make your desired content easily!
How can you use it on Instagram?
Now it's only available for tiktok users, if you have noticed some video clips going around on Instagram that might be saved from the app and re-uploaded versions. for instgram users, there is plenty of similar ones available on the filter gallery if you are a beginner just check this guide on looking up a filter on insta!