On Tiktok you may have seen a new funny filter called "Who Are my celebrity parents also known as Please adopt effect is taking over now! it's created for entertainment purposes only it shows random famous celebrities' names as your fathers and mothers' names. funny right?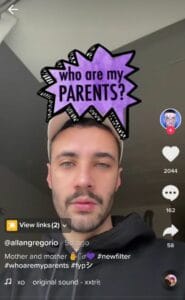 people are interested in knowing which celebrities look like your parents, eg demi Lovato + Ariana grande, Megan fox + Julia, charlie + Denzel, Bolivia + Loren, jake + Meryl, gisele+ Niall, etc and lot more as well, by using this effect it will actually show up random celebrities name above your head.
people also uses another filter also with this one called "Reverse shapeshifting" at the end and shows the images of that famous celebrities on full screen and add the shape-shifting effect in it to make them look like that person as well.
some people still don't know where this effect is available because many creators also added videos to Instagram reels also by saving from the tiktok profiles, so insta users may think it is available on the browse gallery, but it's not available there.
Also read – How To Get Outline Filter Effect On Tiktok
So here we are gonna discuss about how you can do this who are my parents' filter trend on both Instagram and TikTok easily by using your android or iPhone device. here is how you can use it, any beginners can easily do it simply by following these simple steps mentioned below,
How To Do Who Are My Celebrity Parents Filter Tiktok?
To do this trending challenge on tiktok, open your TikTok video recorder camera by trapping the create option, then you will see the effects option below the left side, just tap on it. on the new update, you will see a search bar on the effects area, tap on it and enter "Please adopt me" and select the first effect.
Also, you can search it directly via the search magnifying option available at the top of the app interface as well, after finding that one you need to select the use this effect option or the video camera icon to make a video with it.
if you are not able to find it by searching it, then you can use this effect from here as well, then by selecting the video recorder option it will automatically opens the app by applying this filter, all you have to do is just hold the start button to film it!
to make it the best one you can use a green screen or shapeshifting effect and add photos of the celebrities at last also, by doing this you can make it more similar to their face!
what is the icon of this who are my parents filter?
its actual name is "please adopt me" so you guys need to search for this word to see it in the results!

Hope you all enjoyed reading this article and solved your doubt about finding this one! please note that if you are an Instagram user, only option available now is use tiktok to record the video and there is an option to save it to the gallery, after that you can add it to anywhere you like!