A new crying filter on Snapchat also known as the sad face effect that is also used on many TikTok videos is the new trending thing! you may have already watched a bunch of content based on this viral thing! people are sharing videos by showing their boy friends, GFs, partners or children funny-sad faces by applying the new effect.
The Sad face filter will make you look like you are crying! when you laugh by enabling it on the Snapchat camera will make you laugh! it's too hilarious one to try out with your friends or family! if you are looking for how to do it on tik tok and Snapchat, here is how you can find it in the article and create a video using the effect easily!
Every time new trends are followed by popular creators and users, following and posting content related to viral challenges and trends will help you to gain more viewers worldwide and gain more followers easily on social media by using the exact and proper music and tags used by users.
Also, Read – How To Get New Invisible Filter On Snapchat
So here is how to find it,
How to Get Crying Sad Face Filter Snapchat?
To find the Crying Filter On Snapchat, follow these steps,
Open Snapchat App on your phone
Select the search option from the top left
now enter "Crying" or "Sad face" and tap the search
now you can see the crying filter on the search results
tap on it to use it easily!
here is what the effect looks like, there are the two best ones available!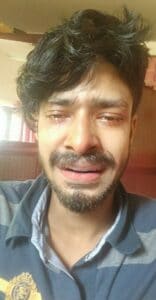 you can also try using the direct links provided here to get the crying effect and sad face from here!
How to Use Sad Face Filter on TikTok?
so many users also want to use the sad face filter effect on tiktok too, so that one will be also included here as well, but most of the videos seen on TikTok are made from the snap lens, and many users also mentioned its rom snapchat on the caption of the videos as well!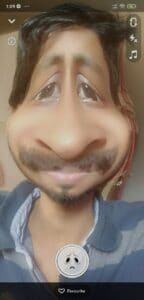 the best method to use it is by directly searching the keyword on the app effects session or on the search bar! if you don't know how to do it try reading this guide on how to search effects on TikTok!