Here is How to fix Instagram couldn't refresh feed Activity Problem 2021 and how to solve this error easily on IOS and Android mobile devices. A lot of Instagram users are getting this notification problem is a very frustrating thing on the Instagram app! mostly this issue is found on Android devices running the latest android versions as well!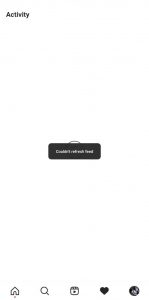 If you are also facing this couldn't refresh feed Instagram activity you can follow some of the tricks and tips provided in this article to solve this issue easily! make sure to read all steps without skipping any of them, any one of these methods will definitely help you to see the notifications and activity without showing any errors!
On the latest update on Instagram (mainly found on beta insta users) are getting this error when we tap on the notification activity tab on the insta to check out the latest notifications and new followers, comments, tags, etc it keeps loading again and again and shows this couldn't refresh feed problem!
Also, check out – How to Search for a Filter on Instagram by Name!
Some users also think that this error is showing because of doing unwanted activities on Instagram, which may have blocked your account! but it's wrong! don't worry if you are only getting couldn't refresh feed error it can happen because of many reasons and not because of your mistake!
How to fix Instagram couldn't refresh feed Activity Problem?
You can do any of these alternative methods to solve this couldn't refresh feed error happens when you try to open the Instagram notification activity tab! here are the methods you can try to solve this problem,
Use Instagram lite app helps you to see notifications without any issues!
If you are uisng beta version try using non beta version from playstore.
Try logging in from another mobile device and check id its working or not!
Also try logging out from instagram app and login again.
Use the previous version of instagram app if this error still not fixed!
Here is the best way you can do easily solve this issue, so many users are facing this error, so this might be a bug on the latest update on Instagram, so you can use an older version of Instagram, in our case the best one we recommend is using the Instagram lite app to check insta activity as well!
Thanks for reading this article on How to fix Instagram couldn't refresh feed Activity problem 2021 solved, for any doubts comment it below, we are happy to help you! also subscribe to us to receive the latest how-to tech updates instantly!