On the Roblox Ability wars, an update has been rolled out and new badges are introduced and every player wants to know how to get the operator badge and the grocery badges easily in the game. we all know that only by doing some special quests mentioned in the tasks section is compulsory for collecting them.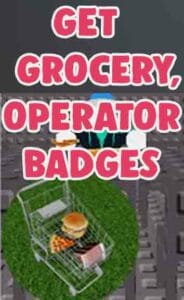 Ability Wars is an entertaining fighting-based game available on the Roblox server from December 16, 2021. here in this game, you need to fight with other players and eliminate them by using the certain powers available in it. around 13.9 million game lovers visited till now and are still being played in real time.
the latest update came recently on Roblox, many users already got the operator without doing all of the 10 missions mentioned due to some bugs present in that version, right now they have solved and fixed all of these issues from onwards you have to complete all tasks in order to get it.
so let's check what are the steps you have to complete and how to get both of them,
How to Get Grocery Shopping Badge in Ability Wars?
To find this grocery bade, you need to take out the pizza from the cave located on the map by using the static ability. then you have to drop pizza down by using the backspace on the keyboard. after that enable the plant ability and get the burger. the burger is hidden behind the underground of the map.
then take both burger and pizza and go up by using the gravity to go up and collect the cake from there. many users said that this only works for PC players, after next update it will be used for mobile players also.
here is the video tutorial for Grocery Badge,
How to get operator Badge in Ability Wars?
In order to get this badge named "Operator" you have to do ten missions! to do one of them make sure you have 250 Punches. before doing it check the mission has been checked if you didn't do it the work you do will not be counted. it will show a "mission complete" message on the screen. follow these steps,
First, go inside the house and buy/get one item
you can buy juice which costs – 10 punches
Then you have to punch a player into the void ( punching an AFK person is an easy method)
Now you need to find backrooms – it is available on the left corner side (hidden) of the cave area and slide down to enter the backroom.
after that, you have to eliminate a player using the boomerang ability. make sure to use boomerang on players who are standing at the corner edge side.
Blow a player using cake ability. to claim cake you need to use gravity and go to the top area and select cake from there. use this cake by pushing someone into it or placing the crowded area.
Next, Go or Reach the Moon by looking for gravity users and that can be used with 2 players.
then defeat a Boss. there are mushroom king, cat, and dog available. so you need to wait for 25-15 minutes to spawn them. joining a small server and beating mushrooms is the very easy way!
next, you have to beat seven players and infect all of them with hivemind ability. in order to get it, you should be a minion when the leader infects more than five users. it requires 4000+ punches too
eliminate players by using a robot clone by placing it in a crowded area.
at last collect 300 souls with devourer
also read – How To Get New Void Crystals In Bedwars Roblox
After finishing one, there will be a rest time of 200 seconds will be given as well.