Hey Insta users! Looking for How To Get Perfect Face Filter On Instagram stories and reels right? here is how you can do it and find it easily! you may have also seen the perfect face filter videos on TikTok also and wondering still there is no filter available on the TikTok official app but users adding videos using the effect as well!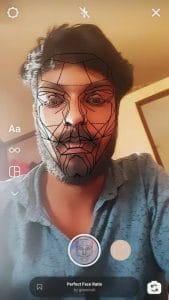 The Perfect ratio filter is a must-try effect right now because it's now getting more popular on Instagram reels videos and even on TikTok too! although there are many versions available right now, using one of them shows if your face was in perfect shape how it will look like by changing your face shape to perfect face ratio!
If you also want to check your perfect face look you can simply follow some of the simple steps mentioned in this article given below, for users who want it on TikTok you guys may need to use another Chinese version app called douyin to make a video using this effect.
Here in this article, we will cover both apps on how to use on Instagram and use on TikTok as well, on Instagram, there are already some filters available on the filter gallery, if you have only this app you can use any of that version available from there that works pretty cool on both IOS mobile and android devices.
Also, consider reading – How to do the Nationality Challenge Filter On Tiktok
How To Get Perfect Face Filter On Instagram?
Let's get straight into the point, to do the perfect face ratio effect on Instagram you can easily find it by searching it on the story browse galley feature available there already! if you still don't know where the search feature is located you can simply read this article on – How to search for a filter on Instagram by name!
Or you can find it by exploring the creator profile as well, for that just open this profile named @Greenvali and select the effects session available right there! that's it now you are able to see the effects list as grid view, then you need to tap on the right filter named perfect ratio from there and select the try it to use it without any issues.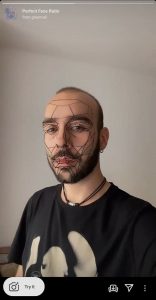 After recording the video you can add any of the music from the song session available right there!
How To Get Perfect Face Filter On Tiktok?
There is a filter also used by many users on TikTok videos, but it's not seen on the official version, we think that is the right version getting viral now for using this filter named the perfect face you have to use the Douyin app! You can use this link given here to use it easily!