Have you heard about singer Hanan sha? or seen one of his best songs recently on Instagram or on youtube? Hanan builds a strong fan base in a few periods by producing the best versions of popular cover songs in his own style. his character is lovely because of his humbleness toward everyone and very lovable to family and friends.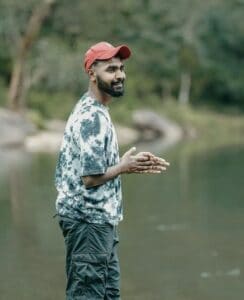 He always tries to build strong bonds with everyone he meets as we can see on his own Instagram stories, he posts funny and interesting stories every day by including his brother's Afeef known as steelhere on insta, Ihsan, and family members' funny real-life incidents.
He mainly has 2 Instagram accounts named @hanaaaneyy and @hananshaah. one of them is used as an official one to share best cover songs and one includes real-life and personal things and stories. both accounts have around near to 5 lakh followers! he also has a youtube channel with 3 lakh+ subscribers.
Who Is Hanan Shah Age
Hanan Shah A is a popular playback singer from kootampara, Malappuram district in Kerala, India born on 12/09/2000. He has completed high school at GHSS pookkottumpadam as well. his two brothers are also singer Afeef and rapper Ihsan as well, they also have a good follower base.
Right now the age of Hanan Sha is 21 and his next birthday will be on September 12 th! if you have seen him for the first time might be wondered about knowing his real age right? according to his looks, we may think he has above 26-30!
Hanan Shah's Best Songs
There are many popular songs that are trending on Instagram reels right now they are,
Ranjha by Hanan Sha (9 million views)
Rabba rabba
mehbooba cover song
Karimizhi kuruviye kandeela
Hijabi
Anbe Anbe Kollathe
Thaabangale
parayathe ariyaathe
Malarnthum Malalaratha
Muthal Nee
Nee Kavitahigala
piriyunnu koottukaar
Musthafa Mustafaa don't worry
Hanan Sha Family Brothers
He also shares funny moments of his brothers on insta, his second brother passed class 10 sslc this year 2022 and his younger brother Afeef studying at 9th. mother nusrath beevi is a teacher as well! you can see the popular videos by checking their profiles @itsteelheere, @itsihsanhere and @nusrathbeevi
Also, Read – Who Is Dr Chromental 500 Real Name Home Place Job
while conducting a show or event including him the crowd will be insane and can't control his fans. many celebrities like Nasiriya Nazim, football players, etc are following him. one you hear any of his songs you will definitely love his sound and the style he used!