On the tiktok app and on Instagram reels everyone talking about the girl goes python makeup tutorial video. even in the comment session, you can see most of them are written about this trend. by checking the comment session filled with the same words many of us are curious about checking out what it's all about.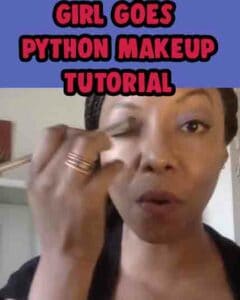 Don't know how it became very popular nowadays. after the getting krissed meme which is similar to the rickroll version used to prank friends and family. but now you can see python makeup tutorials everywhere you browse or scroll on social media! most people don't know what it means and why users post it.
every time popular content creators try to form their own new trends and challenge videos by using their hashtags and songs. it's the best method to get more viewers and engagement with their own works. if people love that original version, other users will also follow the same method and try to make another one by applying the same steps.
Here we are gonna check all you wanted to know about this viral thing that is now spreading all over the internet, if you have seen that movie clip you may also think if it actually happened or is fake.
check out – How To Do What Human Feeling Are You Quiz Tiktok
What Is Girl Goes Python Makeup Tutorial Viral Video?
Actually, in that video, you can see a girl sitting in from of a mobile phone or web camera by showing some make-up tutorial to the viewers as we randomly seen on many youtube videos. after a few seconds, some crazy thing happens to her when a picture appears on the screen and changes her mind. then starts hitting their head on the table in front!
It looks very scary if you have watched it for the first time, may feel distracting as well by watching this abnormal activity shown by that girl. actually, that video is called girl goes psycho but users are typing it as python, don't know why! by researching about it everywhere the truth has come out! you can see it here!
Is this girl who goes python Make-Up video real or fake?
The truth is it has been created by a team of people for a movie's promotion or something related to web series. it has been published years ago in 2014 or before! beauty lovers are getting rickrolled by watching this version, at first they might think, it is a normal make-up video and continue watching till the end!
in 2014 the creator Nakia Secrest shared a tweet celebrating 1 million views crossed for that video too! she also does acting, directing, producing, etc
some girls say they are getting a lot of direct messages to check out this new tutorial from their boyfriends. if you are also getting these messages and clips keep avoiding it is the best option for you if you are a light-hearted person. although it's a self-created and not really happened incident!