Have you seen many influencers on Instagram and tiktok are now posting funny videos with Horace dancing man meme filter effect? you can see on some videos wearing a red dress and some with a green costume. following the same steps and movements with this horace is now going viral on social media.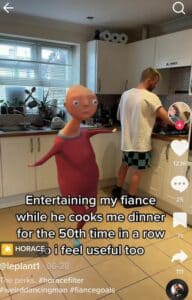 it's really an entertaining and funny effect to try out if you love to dance with by yourself or with children or friends by applying your creative thoughts. by applying the effect on the app you can enlarge the size of the character and place it anywhere on a flat surface like a floor, bed, book, etc.
Instagram popular creators recently added reels by using this Horace filter became very popular, it's already trending on tiktok from the previous month. people are most of the content using this is getting good responses and millions of likes in just a few hours! that's also the main reason why everyone looking for this.
many of us still have some doubts about it where to find the original effect and how to use it on Instagram reels correctly on iPhone or android phones etc, so let's find out
also check – How To Get Pokemon Team Filter On Instagram
How to Get the Horace Dancing man meme Filter on Instagram?
Actually, the Horace filter effect is only available on the tiktok application right now! when you search for it on the Instagram story camera session you will not be able to find the exact version you had seen recently on the reels videos. actually, they are just saving it to gallery made using the tik tok filter first and then uploading it directly to other applications and sites.
the creator named @jqgray published this and around 247k+ content has been posted by people around the world using it!
How to get Horace dancing meme effect on tiktok?
in order to access this Horace filter,
Open the tiktok app after installing the newest version
Tap the magnifying lens icon shown in the top right corner
Then type "Horace Filter" on the blank area and tap on the search
Now select any video from the top results and tap on the effect name (which will be shown in yellow above the creator's username)
Then select use this effect to start creating a video!
you can also use this direct link to use it on the app easily without searching for it on the search bar. here is what the icon looks like, if you know it well you can simply select it before recording.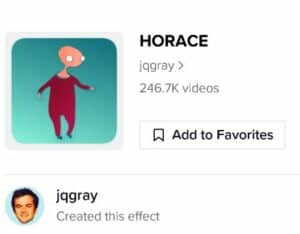 The original one will only show the red dress character, if you want to make it other colors like green or others you have to do some more editing after recording. using the hue effect and selecting the red color on an editing app will help you to do these tricks easily!