Little miss memes are the hot topic on the internet right now! many influencers and celebrities are now posting creative and funny amazing videos by adding their own custom texts to the viral miss meme characters images! some share this as photos and others upload it as video versions to tiktok and Instagram reels!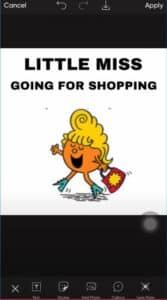 if you don't know what it actually means, this little miss is formed from a popular Mr men book series targeted at children audience by roger. they introduced many characters series as Mr happy, nosey, cheerful, brave, strong, greedy, bump, messy, sneeze, and a lot more.
now everyone on social media took this as a trend and started changing the real names of these books with funny meme names and their own names by using editing apps and templates available on the internet. on the fandom page, all these released book details are available. the most recent release was on 2021 named brave!
the process is very simple to make one by using an iPhone or android mobile phone. if you also want to make your own version here is all you need to do, this process requires only less than one minute! if you want to make the video it may take up to 5 minutes or more.
Also read – How To Do What Human Feeling Are You Quiz Tiktok
How to Create Little Miss meme Mr Instagram?
To make a little miss meme trend video, First of all, you need to have a photo editing application and a video editor installed on your iPhone or Android phone. for editing images PicsArt app and for the video you can use the inbuilt tiktok video editor or Instagram app. kinemaster or inshot can also be good for your editing process.
then you have to save the required images to your camera roll from this fandom little miss characters page. now open the PicsArt photo editor application > add saved image and do the crop first. then you can use the "Fit" option and select the square or 9:16 ratio as you like and adjust the alignment of the image.
After that, you can type anything you like "Little miss going to party, going to college, etc, and save it to your gallery! that's how you can generate your version easily! to make the videos make sure to save more images with your creativity and edit it on the kinemaster app.
don't miss out on this right chance to upload content based on this topic if you are a creator, because people who have done the same thing got many viewers and reach in just a few hours. following these relevant topics formula will help you to gain more followers on your social media apps without putting big efforts.