There is a new challenge trend that is now taking over social media named "I Love you for infinity challenge" video edit tutorial on tiktok and on the reels feature on Instagram that looks so cool and amazing as well. if you have already seen videos based on this trend you might be more familiar with it.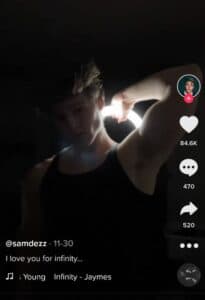 This latest trend is already popular on TikTok and on the Instagram reels where people actually use light rings or something with the lights in a dark room at the end by syncing it to the music beats at the ends. if you already have a tiktok ring light to make the videos you should try making your version using it.
Some people also do this viral video of I love you for infinity edit by using other clips at the end that looks so real and will not identify your face in the dark background or use some manipulations and edits as well. if you don't have the light rings you can use editing tricks to create your own version by cutting it from other videos that is posted by users.
you can also check – How To Do Go Little Rockstar Tiktok Song Lyrics Trend
How to create I Love You For Infinity Challenge Video Edit on Tiktok?
To create this I Love you for Infinity Trend you need some tools first. you need nice round or long rings for doing the light thing at last. at first, you need to film a video in the same background with good light and the second one with light off by holding the lights as well.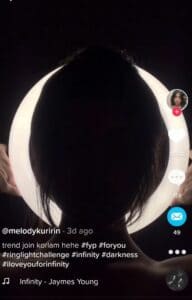 Also, another important thing is the music used in these videos, you can get the song from here. for editing the video use Inshot. the first recorded video should be cut to 4 seconds and adjust the second one to 3 seconds. then try adding the saved music to that video clip after muting all of the 2 clips you have recorded.
if you have no light setup available you can follow this method as shown in the following video.
if you are using the second method make sure to browse through all of the videos based on the same topic and find the exact match to your height and posture to make it look more perfect. but we recommend using the original light rings if you have to make it better.
That's it guys, now you have learned the said method you can follow to make content based on this new viral challenge. if you love to grow your followers and views if you upload a video these days without wasting your time, surely you will get more views by posting videos based on current viral topics without any trouble.