Right now most Samsung and LG smartphone users are facing lg Ims service stopped or IMS service keeps stopping problem error message every time on their mobile phones. everyone is frustrated by getting this error every time when they use their mobile device.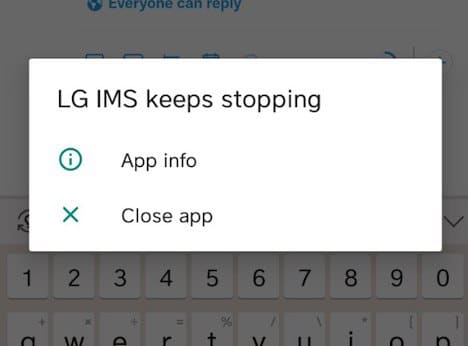 because of this issue LG mobile phone consumers are not able to do calls and get and read messages they receive. some users mentioned people who are using tmobile is only facing it as well.
The LG IMS keeps stopping issue has been recently identified by the LG team and started working on the fix. many videos on youtube assumes that resetting the app preferences and resetting the device will solve this error, but it may not works well. so we don't recommend doing all of that stuff by clearing cache, datas etc. the best solution is wait for the new patch update from the developers, they will update it soon.
Also read – Fix Not Able To Click On Add Yours Option Instagram Chain Story
But some users already found the solutions to overcome this ims stopped error on their LG mobile devices, so here in this article you can check out how they have done it easily,
How to Fix LG IMS keeps Stopping solution
To solve this Ims error follow these simple steps,
Open Settings on your mobile device
Then select Apps and Notifications
Now select App info and show system apps by tapping the 3 dot option on the right top side
then find "com.lge.ims.rscprovider" from the app list and clear its cache and all data
you need to force stop it first before doing it
if the ims error keeps showing do these steps 5-6 times very fastly as you can.
and try restarting your mobile phone.
some users said that the above steps worked for them on LG v60, v30, v20, g8, g6,velvet, but some device models like k40, stylo, etc are still not able to do it.
If this method doesn't work for your phone, don't worry, just wait for the latest update from the developers. they have been notified and identified it and working on the solution. soon you will get an update! you can check for updates from the setting easily!