Tongue out filter effect on tiktok and Instagram reels are the new fun thing to try out with your besties! it's really a hilarious one to check out because applying it definitely, will make you laugh!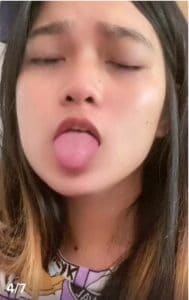 when you use this tongue out and show any faces of your boyfriend, gf, child, or any person or animal identifiable on Tv it shows their tongue out every time when they speak anything facing the camera. many users already made funny amazing content with their loved ones and recorded their first-time reactions as well!
many users still don't get the exact effect on their mobile devices, if you have watched the same typed of videos and are interested in using the filter or looking forward to playing with this new item, here is how you can do it from your phone.
also, check another version – How To Use Tongue Twisters Filter on Instagram and Tiktok
How to get Tongue out filter on Instagram?
On Instagram reels creators already posted these viral tongue showing reels and insta users might think this effect is available on Instagram, but actually, it's not available there. the videos are re-uploaded by saving from the tiktok.
if you want to use it, need to use the tiktok application on your android phone or iPhone first. some users also mentioned similar one is also available on the snap lenses too, but by searching it we couldn't find the exact ones there.
How to do the Tongue out effect on Tiktok?
Open Tiktok app
Tap on the search bar and look up the term "Tongue out"
From the results, you will be able to see the effect on top
select it, and tap on "try this effect" to start making the video.
here is what its icon looks like,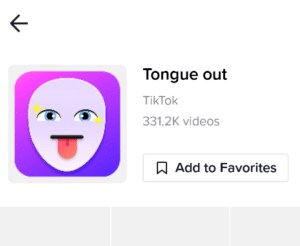 another easiest way to directly use it is by using this filter link given here. so you don't need to do the search and find the real one. around 3 lakh+ users created content using it already!