Now you can collect a free item on roblox innovation award voting hub called circlet of patience by doing a special event in the game. many players are now very curious about finding this badge without knowing the right steps.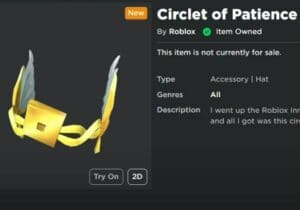 when you normally roam around the world map of the Roblox innovation awards game you may not able to find any clues. on 14th July the developers updated it and introduced many new features. they opened the voting option to vote your favorite ones and it will be closed on the 27th.
the developers named Dev Rel published this on April 15 but About near to 6 million visitors have been recorded for this experience. it has 94 percent of thumbs up / upvotes on the server from 30k members as well. in this game most of the items will be hidden so you have to find them by using your brain.
on the hints it will show like "find hidden items around the map" and there will be no more clues provided to the players. so it is a little hard to search for it everywhere without having any ideas. now a badge can be easily collected if you have good patience, here is how to do it.
How to get Circlet of Patience on Roblox Innovation Awards Voting Hub?
To unlock the circlet of patience, as mentioned in the name you must need good patience and control over your character's jumps and movements. so you can collect this item by finding the hidden stairs from the center portion of the map. right now most players are seen in this area so you can easily reach there! once you had found the steps jump on it and wait for some seconds.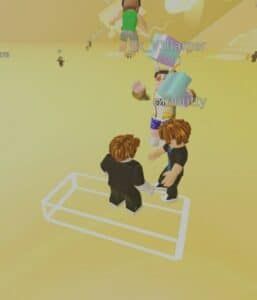 Then you will be able to see other invisible steps going to the upside, so you need to climb all of them one by one very carefully without falling down. if it happens you may need to go through all of them again and again! if you are not able to see another way just wait some time at that location until you see the next one.
Also, read – How To Get Pet Eggs In Roblox Islands
This requires some time to reach the finishing area, after reaching there you will be awarded this brand new circlet of patience badge! the notification will show up below the right side of the screen. here is a tutorial video that shows all visuals clearly!