The falling filter effect on tiktok also known as loop me is getting more attention on social media right now! people are posting many memes and funny moments recorded by applying this funny effect! you may have also seen one of the most viral ones – one girl trying this effect with her grandma was really funny!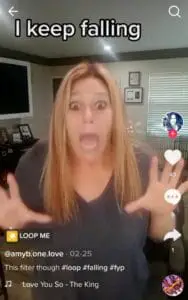 In that clip grandma also falls down by watching this filter on the mobile screen camera! when you select this effect from the filters session and start recording it will make you look like you are falling down to the ground again and again like a loop! It will definitely make you laugh!
many users also want to use the falling effect on Instagram too, but now it is only accessible on tik tok, so if you want to give it a try you need to save it from the tik tok to your gallery first and post it to Instagram reels or stories.
also read – How To Get Kung Fu Panda Filter On Tiktok
some people also found trying it with their children, parents and with pets too! many of the users are still looking for how to find and use it! if you are also looking for how to find the falling filter here is the guide for you! a lot of us don't know the icon of this one and the exact name too.
So let's get straight into the steps,
How To Get Falling Loop Me Filter On Tiktok?
Open Tiktok on your mobile phone
From the Home screen tap on the "Search Icon" from the top right
Then Search for "Loop me Filter"
now select any video from the results
now you will be able to see the effect name shown in yellow above the tiktok user's name
Tap on it to open the page and choose to create a video with this effect!
now you can start making videos using it easily!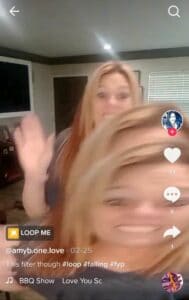 if you are not able to see the filter by searching for it you can use this direct effect link of Loop me from here, from that page you can access it without any effort as well.
another easy way to access it is by browsing it in the effects area, now you can also use the search option available there or find it by using the loop me filter icon too, here is what the icon looks like as shown in the screenshot given below,