Did you know How To Get Venom Filter On Snapchat? the venom face effect looks so realistic as the movie character, right? if you are the one still looking forward to finding this Snapchat lens, then here is how you can do it and find it on your mobile phone running IOS iPhone or Android.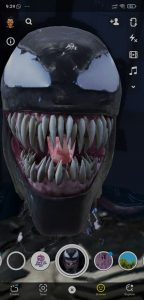 By applying the venom filter in the Snapchat application it transforms you into the venom face you saw in the movies! people already posted videos using this effect filter on apps like Instagram reels, TikTok, shorts available on youtube, Facebook, Twitter, etc.
By watching the videos on every social media app users who are interested in finding it and use it on their mobile phone are confused. because it's seen the same version on every app as well. still, people don't know it is a Snapchat filter/snap lens, and only by using this app you can do make a video with it.
Some of us also think that it is a separate face filters app available on the app store or on the play store to do the venom face. but if you have Snapchat installed on your phone you don't need to download any other apps to your device.also we will try to provide the effects links in order to access that more quickly!
Also check – How To Get Autumn Aesthetic Filter on Tiktok
So here in this article, we will show you how you can find the exact same venom filter on Snapchat and for Instagram, and how to do it on TikTok easily, there are a lot of effects available in this name so you can switch between all of them if you want to use another one as well.
how to get venom filter on snapchat?
To Get and use the Venom Filter on Snapchat follow this simple method,
Open Snapchat App on your mobile device
On the top search bar type "Venom" and search it
Then tap on explore lenses and search again
At the top you will see the the original venom filter creared by "jp pirie"
Tap on to open it on snapchat camera
to became or enable venom face tap on the screen once!
To do it show it on your face and hold the record button
That's how you can get and do the venom filter!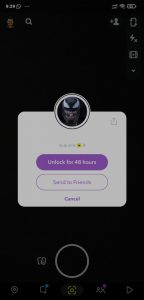 if you are still confused to find the original effect, you can use This Venom face Filter effect link given here. after going to that effect page you will see an option to open it in Snapchat. just press on it to apply the effect directly on your snapchat camera.
How to get venom filter on Instagram?
You can get the venom filter from the following Creators profiles, the best ones can be found on this @bagdellenok, @dylanmoreau2021, @gurro97, @neon.storys etc if you want to see more versions you can search it on Instagram. to know how to do it read this article on – How to search for a filter on Instagram by using name added recently!
How to get venom face filter on tiktok?
Right now On TikTok, there is no filter available, so you might need to use the Snapchat version or Instagram to make the video, after that you can save it and upload it to Tiktok from your camera roll!
Now you have got how to get venom filter on Snapchat, hope this article helped you! for more updates subscribe to us to receive the latest filters, and trends fastly and if you still have any doubts feel free to ask it in the comment session below!