Right now Tiktok Users want to know How To Get Autumn Aesthetic Filter on Tiktok! it get into the trend only a few days ago. this effect is also found on reels available on Instagram and other apps as well. here we can discuss how you can find it and do make a video with it on TikTok.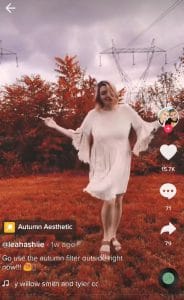 The Autumn filter effect makes your videos more aesthetic and vintage look. it can also improve your beauty by changing your eyes to look orange as well. if you add this effect everything looks orange, when you film or record videos outside with greeny nature background, it changes to orange-red color! amazing right?
Everyone who watches those videos using this autumn effect will definitely fall in love with it and try to find the exact filter and try to use it as fast as we can! you may also get impressed by watching the videos on TikTok right?
A lot of users still don't get or find this autumn aesthetic filter effect available on TikTok. right now it is available in the trending session in the effects area as well, if you still don't find it don't worry we are here to help you all by showing the best methods to use this easily on ios or android mobile devices.
So here in this article, we will show you how can you get this on both the TikTok and Instagram apps. so let's get started. there are already near to 7 lakh videos made using it but right now it's again going as a trend by adding hashtags like #autumnfilter #autumnaesthetic #autumnfiltertrend #autumnfiltertiktok etc.
Also, you can read – How to Search for a filter on TikTok by name!
How To Get Autumn Aesthetic Filter on Tiktok?
To get the Autumn Aesthetic Filter on TikTok app,
Open Tiktok
Select Explore Tab
And Type "Autumn Aesthetic" on the search and tap search
Now you will see this Autumn effect above the results
Then select video icon shown next to the effect name
Now you can start making video with it easily!
you may be interested in – How To Get Face Lottery Pretty Filter On Tiktok
If you still not showing right there in the search results, you can simply use this Direct Effect link of the Autumn Aesthetic on TikTok from here! one you open that page tap on the record icon to make a video with it! also, make sure to add the right music to that video.
If that filter is not available in your region you can use this BEST VPN Pro app and try changing location and use it easily!
What is the Autumn Aesthetic Filter icon on tiktok?
The icon looks like this as given below, if you want to use it now, you can find it from the trending area shown in the first tab of the effects.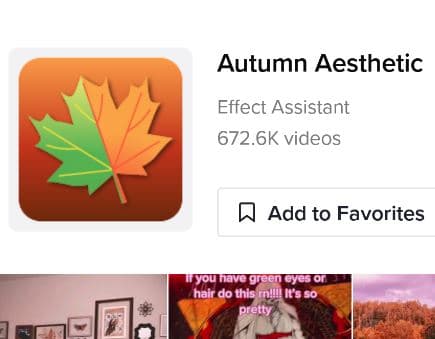 How to Get Autumn Aesthetic Filter on Instagram?
If you want to use the exact same on you need to use the TikTok app first to make a video and save it to your camera roll. or another alternative method is to use the Instagram filters available in the browse gallery. if you wanna know the method follow this guide on – How to Lookup a filter on Instagram by name!
Here are some best Aesthetic autumn filter available on Instagram – Autumn II by Instagram [email protected] and Autumn Magic by dom.raldon!
Hope you guys enjoyed reading this article on How To Get Autumn Aesthetic Filter on Tiktok well, for doubts and suggestion write it in the comment session!