Roblox Blox Fruits players had recently faced an issue while tapping the unstore option to deselect the chosen fruit ability. regarding this error, many gamers who play this every day are confused and looking to overcome this problem in their device.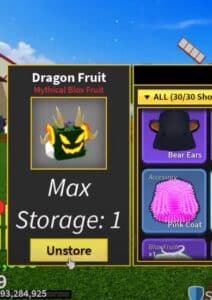 Blox Fruits is a fantastic Roblox experience addictive game that quickly became very popular. near 1 billion visits have been counted for this and users still love to play it! it's actually an adventure-based theme where you can fight with other players and bosses, explore and level up by completing special missions,s etc
there is a lot more to experience in this while setting up you can choose a pirate character or marines. most users like to choose pirates to play battles with them. some of them will be very hard to compete with according to their abilities. completing the different missions or quests helps to unlock amazing abilities.
How To Unstore A Fruit In Blox Fruits?
To Unstore a Fruit in Blox Fruit, First of all, select the menu bar shown on the left bottom side of the interface and choose the "items" option from there. it will open up the inventory list. then tap on any fruit from the list that you wish to remove or unstore.
but a few days ago latest patch update has been released on the Roblox server by the developers experiencing some major bugs! people who are using PC and mobile devices also had gone through this stage and still the developers are working towards the fix. some mentioned that it only happens when you select some fruits and are not able to change them while selecting the remove option.
So the fix is if you are on sea 1 area go to the second sea and try unstore again! majority of people who tried this method are now able to do this thing very easily! this type of bug happened for users in sea1. it's not only facing one user or two members.
also read – How To Get New Void Crystals In Bedwars Roblox 2022
to access the second see you have to reach or complete level 700. according to this, the developers are informed by gamers through their discord servers, Twitter handles, etc. so the creators assured that it will be fixed in the coming few days.