The ginger hair filter effect is the new trend many influencers use on tiktok and Instagram reels. if your hair color is black you can make it looks reddish or yellow shades easily by applying this filter. if someone sees it for the first time they will not be able to figure it out!
people are excited about using this effect to check how they look by replacing the real hair color with brown or yellow color and asking everyone about how it looks like or if they want to change their color in the future. this challenge has been started recently but it still going viral on social media. using it in videos can make everyone more attractive and beautiful.
it will also show freckles on your face clearly too. most videos are seen on the tiktok app because a version is now available in every user's effects section. some tiktok users are still confused about finding the real one and in some cases, it may not be visible in your application too.
for Instagram users, there are some alternative versions of the ginger filter also available to change the hair color, it will be also included here as well. so let's check out how you can do it easily from your iPhone or Android smartphone,
also read – How to Do Rat Face Filter on Tiktok and Instagram
How to get Ginger Hair Filter on Tiktok?
Open the tiktok app and simply tap on the Search icon shown at the top, then enter "Ginger Filter" and hit search. now many videos will be shown in the top results. all you have to do is just tap on any of these videos to have the content you are looking for.
After opening the video, a yellow pop-up with the name will be shown at the top of the user name of the tiktok creator. by tapping on that it goes to a page with a full list of videos made using it. then choose the "use this effect" button shown below to start creating the content! around 1.7 million+ videos have been made till now!
here is what the icon looks like, it can also be used from here too!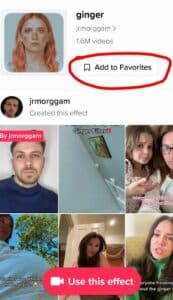 How to use Ginger Hair Effect on Instagram?
A lot of similar ginger filters are available for Instagram users too. there is an easy way to find it by simply searching it on the browse gallery. Instagram browse gallery feature can be accessed from the story session and simply swiping from left to right.
from the creator named @sam.meireless or @claraflorentia can also be able to do it. after visiting their profile head over to the effect session and scroll down to find them!