Rat filter tiktok is the new sensation on social media apps, everyone is making funny videos by applying the filter on their mobile phone camera and showing it to their followers. most of them are made by changing the look of their boyfriends, girlfriends and parents without them knowing.
many posted these types of videos by tagging their friends in the description of the video by saying please take a look at it! by adding the filter it will transform your face and change to a long rat nose, adds mustache etc. it works well with both videos and photos too!
some influencers also found using it on many Instagram reels that are also going viral now, by watching this content people are now a little bit confused about finding the original source of the effect to give it a try. it don't require any third-party apps downloaded from the appstore.if you are also one of them, actually it is only available on tiktok.
so let's check out how to get this effect and create a video with it easily from any android or iPhone device,
How to get Rat Face Filter on Tiktok?
To find the real rat filter on tiktok you can simply search it on the search bar icon shown in the top right corner. and from the results simply open any of the videos with the same filter applied to that clip. then you can notice the name shown above the username.
one you tap on the name shown there, you will be redirected to the following page with a lot of videos made with it. there will be a text option showing the "use of this effect" mentioned below. by tapping it you can easily record a video of anyone with a rat face with a long nose!
if you couldn't find the real one after searching please take a look at this link to go open the page directly on the app itself! so you don't need to spend more time finding the real one from the camera options. here is how the icon looks like,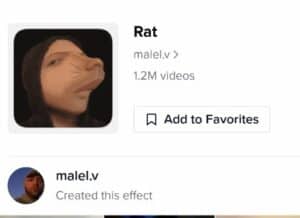 How can you use rat filter on Instagram?
currently, the current version is only available for tiktok users, so you have to use it in order to get the best output. other wise there are many similar ones available on the Instagram galley to know how to search filters on Instagram take a look at this article which we added recently.