In the age of social media, where everyone wants to showcase themselves in the best way possible, the demand for photo editing apps is increasing day by day. People want to look different and beautiful on various social media platforms such as Facebook and Instagram.
The most effective way to make this possible is the use of various photo filter layers. At the same time, many smartphone manufacturing companies are providing users with a significant collection of camera filters through built-in camera apps. Many users still find those filters insufficient. Have you ever thought what the reason behind the frequent use of photo filter apps is?
In this writing, we will try to outline some reasons behind the ever-increasing trend of using camera filters on each and every image that is going to be posted on social media. Moreover, we will also discuss some tips to make your pictures look more appealing using filters. Read on to know more about Lomography apps and layers.
Also read – Best VPN for playing PUBG Mobile and PUBG Lite Low Ping
Why People Use Camera Filters Apps?
Recall yourself, what was the reason behind the use of camera filters on your recently clicked snap? Did you apply a photo filter after clicking it, or you were already using a filter while clicking snaps? Most users click images using a filtered camera, and the rest use filters after clicking it. The younger generation, especially women, do it more than often. According to a recent research study, around 90% of young women accepted the use of photo filters on their snaps.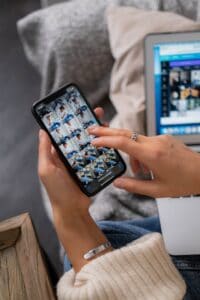 Seeing this trend, many social media apps like Instagram allow users to apply their favorite filters to their image right before posting it. It is observed that people like to use Instagram camera filters more than any other kind of filters. whatever, the question is, "why do people use photo filters apps so often to edit images?". here are some reasons mentioned below,
Enhanced Self-Esteem
For many people, a modified image using various filters is a way to enhance their self-esteem. They would post these modified snaps on social media, where their peers and other people like or appreciate their looks. The main objective behind posting modified photos for many people is to garner appreciation from others and ultimately enhance their self-esteem. Photo filter apps help such people do so.
Retouched Skin Color
Photo filters allow users to change their skin color in a given picture because of retouched lighting. Many people use filters to brighten or darken their skin color according to their preference. Younger women, especially, want to showcase their tanned complexion, and camera filter layers easily allow them to do so. Multiple Instagram camera filters allow users to retouch their skin colors as well.
Turning Imagination into Reality
Many times people use camera filter apps to shape their images the way they want. For instance, a person likes rainy weather and wants to turn a picture clicked during sunny weather into an image that promotes rainy vibes; using filters is the solution. Similarly, camera filter layers allow users to insert augmented reality into their pictures easily, which is why you would see many people doing it frequently.
Tips to Use Camera Filter App
Now that we understood why everyone wants to use camera filter apps, it is time to jot down some details that would help you make your images more appealing using filters. Whether you are using Instagram or any other app that offers filters similar to Instagram camera filters, these tips will come in handy for you! Further details are given below:
Hit and Trial
While there are a variety of popular Instagram camera filters and photo filters offered by other editing apps, it is better to follow the hit and trial strategy. There is no need to follow the hype. You may have heard about the 'Claredon' filter of Instagram being the most popular one these days, but it doesn't need to fit right on your photo. The best way to come up with a perfectly modified photo is to check a wide variety of Instagram camera filters options and go with the one that suits you the most.
Sometimes, popular filters fail to add the desired touch to your photo, while apparently unknown filters make it amazing. 
A Quality Photo is Key
The first thing you need to ensure while using Instagram or any photo editing app to apply camera filters layers is a quality photo. If you fail to click a quality snap, no filter is going to complement it. Hence, make sure you are steady and in your best pose before clicking a snap.
Moreover, try to make proper use of natural light unless artificial lighting is essential. If you are clicking your photo in dim lighting, then the HDR mode of your smartphone camera will come in handy for you. Make sure to click a number of snaps at a given moment to select the best one of the lot.
Conclusion
People want to make their photos look artistic, and camera filter apps can help them do so. We have discussed some reasons that compel people to use photo filter layers and retouch their photos.
We have also outlined some effective tips to help you show the best version of yourself using various camera filter layers. We hope these details will help you the next time you snap a selfie or come up with a portrait snap to be posted on Instagram or any other social media platform.