Hey everyone! did you want to know How To Get Monkey Face Filter On Instagram Reels and story which is already becoming a trending effect used by many reels users! this effect is a really funny and hilarious one that will make everyone smile.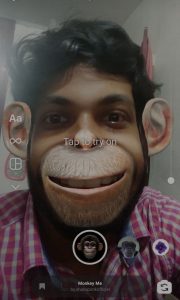 The monkeyface filter effect is a special type of overlay that can make you look like a funny monkey look, it syncs to your face actions as well, if you smile or do some movements you will see the movements slightly on that monkey face also!
many users think that this is created by using the apps available on store but The monkey filter is available on Instagram but also found on a lot of TikTok videos and facebook also! if you have seen this filter outside, some users also said that there are similar filters available on the Snapchat lenses area.
If you are the one who loves making a video using this monkey-looking face on your next reels or story, here in this article you can check out how to do it in seconds with your mobile phone running an ios or android operating system in it!
Also, read – How to search for a filter on Instagram by name!
How To Get Monkey Face Filter On Instagram Reels?
To do or get the monkey filter on Instagram you can follow many methods, you can select any of the methods which looks easier for you, and the first method to find it is by just simply searching for the effect in the browse gallery available on Instagram stories session, although it is hidden from the options, if you are new you can check the following guide on How to look up a filter on Instagram by entering the "Monkey me" on the search bar to find it!
Another easy way to get it is by opening the developer's profile on insta, the name of the creator on Instagram is @shakaponkofficiel from this page you can access this from the effect tab near to photos as well, you need to tap on try it in order to make a video!
please ensure that your Instagram is the latest version updated from AppStore/ play store available for your device first, some latest filters may not available or works well if your run outdated app versions.
Hope you all found this How To Get Monkey Face Filter On Instagram article helpful, for any doubts or suggestions feel free to comment down below or message on Instagram, for more filters and trends, subscribe to us to receive updates instantly!