Hello Readers! Looking for How To Get Pouting Duck Face Filter Instagram Tiktok/ pouting filter instagram/tiktok duck face filter effect tiktok or snapchat right? there you go! This duck face filter effect or pouting filter is now became very demading filter effect on the tiktok and instagram reels.
So many users are now making videos with this hilarious filter effect that can make you and your viewers fun with it! Many of the users who tried out this Duck face effect filter said that this pouting duck face effect filter made their day!
By using the duck face filter on instagram/tiktok camera it makes your lips pushed forward like pouting face filter. If you are also wanna make video using this duck face effect filter on tiktok or instagram you can check it out in this article.
If you are looking for another version of the pouting effect filter on instagram or tiktok you can also read it from here as we added recently – HOW TO GET PILLOW FACE POUTING Botox FIlter on Instagram/Tiktok.
Also check out – BEST TRENDING INSTAGRAM FILTERS!
How To Get Pouting Duck Face Filter Instagram Tiktok?
To get or use the Pouting filter/ Duckface filter effect first of all you need to install the Instagram app on your device. you can easily find this pouting duck face filter effect by simply searching it on the Instagram filters search area with the Keyword "Besito Tik Tok".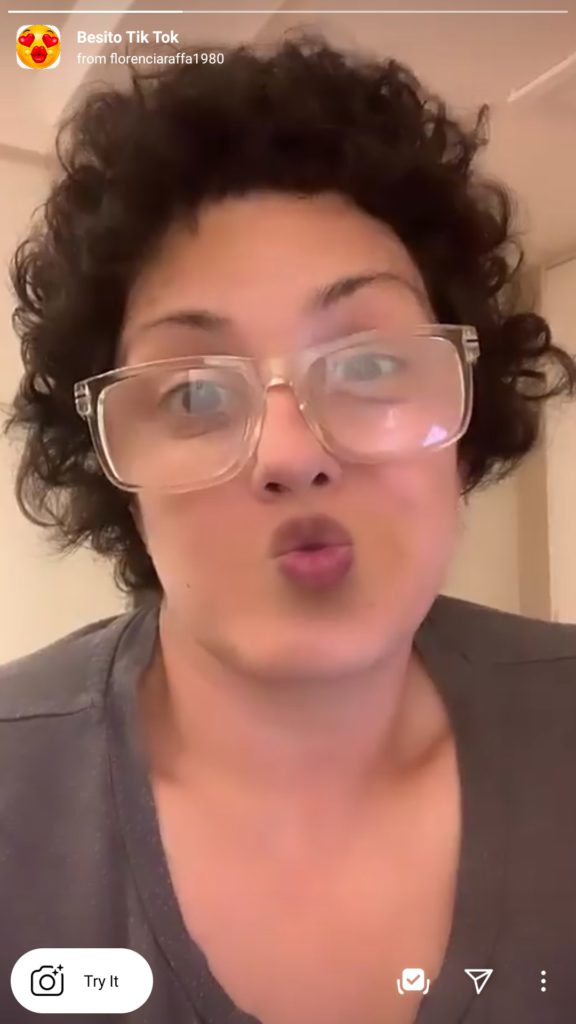 If you don't know how to search for a filter on Instagram just read this article on HOW TO LOOK UP A FILTER ON INSTAGRAM BY NAME from here! another method to find this exact pouting filter or duck face filter is by finding the creators profile on instagram!
The Creator of this duck face/pouting filter effect on Instagram is @Florenciraffa1980 , just open this profile on instagram and tap on the effect tab on their profile and you can notice a filter names Besito tiktok on the first row!
Tap on it and click on Try it option below left area to open it on the instagram story camera. from there you can make the video with the duck face effect applied in it and save it to camera roll as well.
How to get Pouting filter/Duck face filter effect on Tiktok?
To get this pouting filter effect or duck face filter on TikTok is to use the Instagram filter on the Instagram story camera is the only option! after making the video on Instagram you can save it to the gallery and post it to TikTok, FB, etc as you like!
Hope you all like this article on How To Get Pouting Duck Face Filter Instagram Tiktok / Duck face filter tiktok or pouting filter well, also for any doubts contact us here on Instagram and subscribe to us to get the latest updates on instagram filters, TikTok filters and Snapchat instantly!