On Instagram after releasing the new story sticker feature people are creating new trends every day and getting viral instantly! right now a new trending story chain sticker named see who still remember your birthday taking over the Instagram user's stories after the name trend.
In this new challenge, people add a sticker as a question to check who knows the real birthday date correctly by adding a Quiz sticker with it providing 3-5 options to select as well. on the quiz option, you can select the right answer from the options, when the viewers and your followers tap on the right or wrong answers you will be able to view all of them from the story insights.
Actually, this trend has been created by a user on Instagram called @maryam.farrag.1 a few days ago and people started posting it on their own stories by including many birthday dates options. if you also add a story to the following chain, it will get more views than the normal views you receive.
Here we are going to find how to post who remembers your birthday on Instagram without any problems. some people said that they are not able to click on the add your option also, if yours also not working well check out this guide on – How To Fix Not Able to Click on Add Yours Instagram Story!
How to Post See Who Still Remember Your Birthday Instagram Story Sticker?
It's really simple to post this new thing on your stories, for open your Instagram app and find this profile on Instagram called @Salih_____mhmd. on this profile page on the app you will be able to see some highlights mentioned according to this named "Remember BDay" shown at first as you can see on the screenshot given below.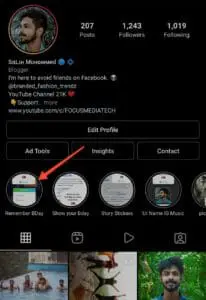 Because by adding photos to the popular chain type insta status you will be able to reach more viewers around the followers and that can also help to grow your following if you add some unique best posts. In this way, many new small businesses are trying to reach more audiences without spending more money on promotion and so on.
If you have any ideas and some supporting followers you can also make a new trend like these by using the add new sticker future that is now available for every user right now. by doing this if it goes viral all users who joined the chain will be able to see who created that one and follow you from there directly!
That's all about how you can add this viral instagram chain trend to know who still knows your bday date correcly.