Easter bunny ears filters are being used On Easter days special! people post videos and selfies using this eater rabbit ears. it's because it is said that the rabbit is the symbol of easter. right now everyone shows their presence and shares greetings through social media platforms like Instagram and Snapchat.
this easter many users found using the bunny ear filter effect, which will transform your looks by adding the ears of a rabbit above your head! coll right? using this effect will make you look so cute and attractive as well, many famous celebrities and popular content creators already shared posts by applying it!
If you are also looking for how to get this bunny ears effect on your favorite social media apps, both of the 2 versions will be mentioned in this article and also include how you can use it easily without facing any errors on your iPhone or android phone as well.
Also read – How To Get Madonna Filter Effect on Tiktok
So first, let's check how to get it on insta.
How to get Easter Bunny Ears Filter On Instagram?
The best and easiest method to find the Bunny ears filter is by directly searching it in the filters gallery area. by doing the search you will be able to look up many large varieties of effects and choose any of them according to your preference. that's the first method!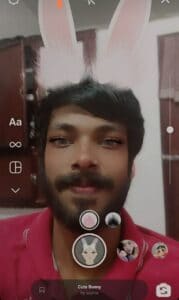 Another method is by using this direct bunny filter link given here, from that page when you tap on the open with insta option, it will directly open the application by applying the effect automatically, so you don't need to search for it and find it!
the creator of this effect mentioned in the screenshot is @sophie, you can also find it on the profile page too, this creator also made 200+ amazing effects too!
How to get Easter Bunny Snapchat Filter?
To get it on Snapchat, open the app and tap on the search bar shown on the top left side. then simply search for "Easter Bunny' and then you will be able to see many ar filters as well, from there you can tap on any of them and simply use it by tapping the record option!
you can get a bunny Snapchat filter from here!
here is the screenshot of the above mentioned one,