Everyone on tiktok is now talking about the newly released filter that will help you to show the perfect brow shape as an overlay above your face, by applying this on the app you can easily draw an eyebrow by using pencils easily! some also post videos and says this effect will show how perfect or fit is your brows and where it should be placed according to your face shapes.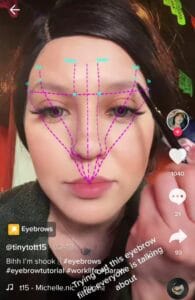 Right now everyone trying out this eyebrow trend for grooming their brows. many people who use this same effect assume that they are able to see the perfect brow shapes and some users also said by using this effect will not help you to make up better, it may ruin your face looks too!
videos created using this trending topic are now getting more reach on social media like tiktok, Instagram reels, and FB as well, if you are also a content creator or a person who loves making videos using the effects it is the right time to publish a new content related to this one. surely it will help you to get more views and followers as well!
if you have seen these same videos on insta reels or FB it might be saved from the tiktok application because now it's not available there, so the only way to use it is by using the tik tok app on your ios or android mobile device.
Also, consider reading – Get New Cheek Contour Filter On Tiktok
How to Do the Eyebrows Filter Trend On Tiktok?
you can easily find this filter effect from the effects area. you can access it easily by tapping the "+" or create option and by selecting the effects. then on the search bar enter "eyebrows" to figure it out easily, here is what the effect icon looks like as shown in the screenshot below,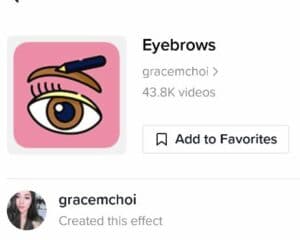 you can also search in the main search area using the name that will also show this exact one as well, all you have to do is simply select video recording option shown next to the name to record video using this!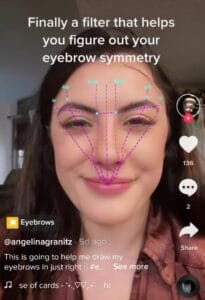 if you are not able to find it via searching, you can simply use this effect link of the eyebrow filter provided here. then you can directly open the filter page on the app, from there only you need to select an option called "create a video using this effect"
many users also said they are not able to access the filter or not able to see it directly on the application, that might be because of these reasons, may your country or region not supported for using it or using to old version of android or ios.
if your region is not supported you can use Best VPN apps and switch your location from the current region might helps you to access it easily!