A new trending effect called the ouch filter that is available on the tiktok effects area is now getting more attention on social media. right now people are trying to prank their boyfriends, girlfriends, or family by applying a realistic-looking effect that makes you look like bruised face!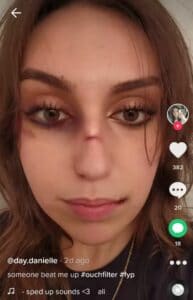 you may have seen some creators are posting screenshots of their chat history with their boyfriends by sending that face look and pranking them as well, many of them actually get pranked easily without finding its created by using a simple tiktok filter uisng iphone and android phone!
This filter called ouch is only made for fun and entertainment purposes only, but now this one is getting so many complaints from audiences around the world because applying it on the tiktok camera shows any overlay of scratches above your nose and mouth and below the eyes as the real one.
If someone actually see this output image or video they will definitely think it is original. lot of people hate it.so it's not cool to use this to prank your loved ones and make them tense. so we won't recommend you to do these pranks.
Also Read – How To Do Shake Your Body Like A Belly Dancer Edit On Tiktok
Some people also do the makeup as well to look horrible too, not only on tiktok it's also trending on Instagram reels too, if you are an Instagram user there is already a lot of other versions related to this available in the effects gallery.
How to get Ouch Filter On Tiktok?
To find this ouch or Bruise face filter on the tiktok you can use any of these methods mentioned below,
By Searching it directly on Tiktok
By using the Ouch effect link
you can simply look up any filter on the app yourself by using the search bar shown at the top right side area. there you need to enter "Ouch Filter" and tap on the magifing glass icon. after a loading screen it will shows up the results as well, on the top the effect will be listed and from there you need to select the recording icon shown right to it.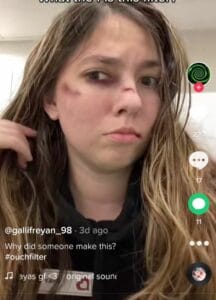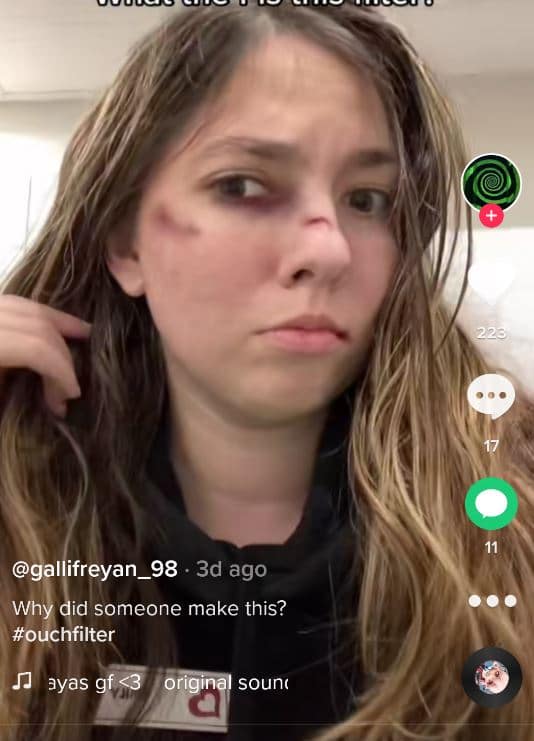 9if you can find it through searching it, you can try using the Direct Ouch Filter Link for Tiktok Video made uisng the exact one you are looking for. after opening it on the app you will be able to see the effct name showed on yellow color above the tiktok user's name of the creator.
How to find Ouch Filter on Instagram?
If you are an instagram user you can find it by simply searching it on the browse galary as well, to learn the method you can check this guide on how to look up a filter on instagarm by using the name as well, another method is by finding and opening these creatpors profile named – @kyo_p , @doodleteal , @realhadith , @brunobozz etc!