The new trending chain story named show us your name in urban dictionary that is started by the user profile called @bymayuuu now becomes the most viral story chain right now, about 6 lakh+ people already gained this viral story by adding their names screenshot from the urban dictionary.
To do this challenge all you need to do is just open the urban dictionary website from your safari or chrome web browser and enter your name and tap search. After that, you need to take a screenshot of that web page first.
This Urban Dictionary has almost all user's names available if you also look up your own name there you can definitely see the results as well, and the main item required is the link of this exact story chain sticker available on Instagram.
The chain stories feature is creating an evolution right now, through making such interesting chain stories and posting on this chain, users are able to get more views on stories and more followers as well.
So here we are going to check out how to do and get the show us your name in urban dictionary trending story sticker easily and post a brand new story with your name from your mobile phone. some users said that they still not able to click on the "add yours" option shown in this new sticker also.
If Add your sticker not working – How To Fix Not Able To Click On Add Yours Sticker on Instagram
How to Do Show Us Your Name In Urban Dictionary Instagram Story Sticker?
To find this exact story sticker of show you name in Urban Dictionary you can simply open this profile named @Salih_____Mhmd first, then check the Highlights session in the name "Story Stickers" shown at first, all you need to do is simply open it from there and tap on add yours photo icon.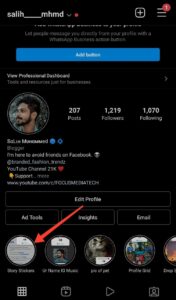 Before tapping that make sure to take the screenshot from the Urban Dictionary with your name as well, simple trend right? that's how you can do it!
Conclusion
The Instagram story sticker can be created by any of us from the story area directly, recently this feature only available to selected users, but now this feature is available to every one and works well without any issues, if you have enough ideas to create a new trend and have good followers you are good to go creating these type of show us ur name in urban dictionary type stickers.