Have you seen a new filter to check whether if you have white teeth or yellow color teeth? if yes and you are going to try it out, you can find all of the details about it from here. this effect is getting a lot of views and usages as well.
A lot of people still searching for this type of effect to check their teeth color and show them to their followers, if you are also one of them who really wanted to give it a try, you don't need to use any other third party apps from AppStore or play store to do this. only you need to have Instagram or tiktok app installed on your mobile phone.
People are making videos by holding something like an orange, banana, or something with yellow color in one hand by applying a black and white type filter and showing their teeth on the mobile phone's camera. the main reason to use this Black and white type filter effect is which shows yellow color well and dims all of the other colors.
Then let us get into the main topic, from the following details you will be able to use it directly by proving the direct effect links too for saving your precious time to find the exact one from the effect list available on the app. no matter with both the iPhone or Android phone, both works well without any issues.
Also, check out – Filter vs Reality Instagram Filter
How to Get Yellow Teeth Filter On Instagram?
To find and use the Yellow teeth effect on Instagram, first, make sure to check your Instagram app updates to the latest version, just simply search for "Yellow" on the Effects gallery feature search area. if you are new and don't know how to search, check this guide on "How to Look Up a filter on Instagram by name!"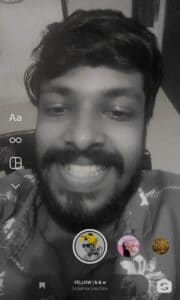 Also, you can access the yellow teeth filter from the creator's profile named @yanka.onuchina as well, all you need to do is after opening that profile and tap on the Filters tab, and scroll down to get it.
If you are looking for an alternative and easiest method to use it you can also use the Direct Yellow Filter Link for Instagram from here! if you are looking for the tiktok version that is also available as well, to do this read it from here for tiktok users!
you may not clearly notice the exact color through seeing your face through mirrors, but by applying this effect you can clearly notice your teeth color well, if you wanted to do it, its right time now because people are posting many videos regarding this and going like a challenge on social media.