The I am an Island Boy effect on TikTok has been taken over the internet right now! people are attempting to make the funny version of videos by adding this filter and using I am an island boy music with it. people who love creating funny and entertaining types of videos on social media should try this once!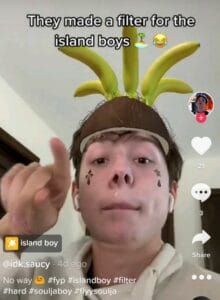 Actually, if you apply this Island boy filter from the effects session it will make you looks like a funny island boy! its shows bananas above your head. so many memes are now getting viral on this island boy topic. recently the song by Flyysoulja and Kodiyakredd went very popular.
Users are taking their song part and adding on their videos too, you may have also noticed many versions of this song by adding some amazing beats also available on youtube and many other sites. because of all of these TikTok effects creator made a version of island boy.
Some people also try to get this filter on Instagram after seeing some Instagram reels uploaded by creators, so if you guys are looking for the Instagram version, here we will also include the method you can follow to do it on Instagram too.
Also read – How to Get Yellow Teeth Filter Effect on Tiktok
So let's get straight into the topic, how you can find it, right now there are 2 versions of island boy effects available on the app. below both of them will be included and the music used in it also as well.
How to Get the Island Boy Filter On Tiktok?
To get the Island Boy Effect, Open your TikTok application after updating it to the latest version. from the home page tap on the search bar shown at the top right corner. there you can type "Island Boy Effect" and hit search.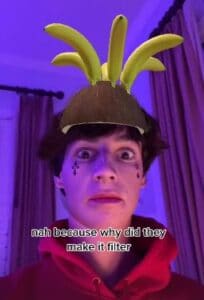 After a loading screen, both of these two types of effects based on Island Boy will be shown at the top results! you can also see all of the videos created using it too below it. you can also take a look at – How to look up a filter on Tiktok by Name!
Here is the Direct effect link for the First version and Second version of the Island Boy Effect. we found that the 1st one look more amazing.
If both of these effects are not available in your location try using the SALU VPN Pro App and change or switch your region. then try again using it using the links!
What is the I am Island Boy filter icon on tiktok?
if you also know the icon, you can find it from the effects area too very easily. the effects option is usually shown below the left side area when you open the camera to record video. so here it is,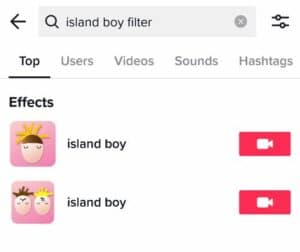 To get the Island boy filter on Instagram you can also search for similar versions in the search bar as well, so you can simply check this guide on How to search for a filter on Instagram as well